It's been a little while since I've posted a Silver Screen Style. I took a little break for February, but no worries — it's back!
I really love the movie
Forrest Gump
. I really enjoyed it as a kid, but honestly hadn't watched it for a really long time (probably since high school?). I noticed a couple of weeks ago that it was on Netflix and put it on as background noise while I was working. Well, I ended up being glued to the thing as if I had never seen it before. This movie is so. Good. The depth of the characters and the cross-stories are amazing. By the end of the thing, I was crying.
Crying
! Over a movie I have seen a million times! But no shame. This is such a great flick.
I remember as a kid loving Jenny's style. Granted, I'm not into the boho/hippie thing, but I specifically recall wanting the shoes she was wearing just as she was about to jump off the balcony. They were some silvery platform heels.
Piped Andie Chino
, J. Crew //
Crinkle Gingham Shirt
, Topshop //
Cameron Satchel Bag
, Frye //
Cortez Shoes
, Nike // A box of chocolates
Viscose Convertible slip
, Free People //
Kimchi Blue Scarf Print Kimono Jacket
, UO //
Southbound Faux Shearling Jacket
, Forever21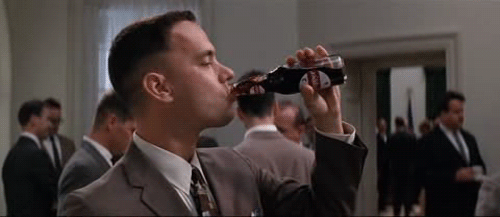 And can't choke down fifteen Dr. Peppers?
Then just pick up the lip gloss
.