Disclosure: This shop has been compensated by Collective Bias, Inc. and its advertiser. All opinions are mine alone. #PeriodConfidence #TryTheDivaCup #CollectiveBias
Happy Monday! Today I'm partnering with
DivaCup
to chat with you about making the switch away from tampons! I made the jump a few years ago after my own period-related comfort concerns and I'm so happy that I did. I recommend this menstrual care option to my closest friends and today I'm answering
your
questions. Click through for more info and to share your own experience!
The DivaCup
is easy to find in store! It is available for purchase at your local Target, which is where I picked up mine. You can find them in the same aisle as your other feminine and period care, with the tampons and pads. Want to know where you can find one near you? Check out
their handy store locator
.
What you'll find with
The DivaCup
are two Model options: 1 and 2.
❖
Model 1
is recommended for those who have not had children vaginally or by C-Section.
❖
Model 2
is available for those who have delivered a child vaginally or by C-Section.
Both models are made from healthcare grade silicone, aren't drying, and don't leave any residue in the vaginal canal.
Thank you DivaCup!
There is also an additional product called
DivaWash
. This is an all-natural wash that I keep at home for cleaning my
DivaCup
in between changes. It's not required, but I prefer to have it as an extra step in my own home care since it's specially designed to protect the silicone. The wash is pH balanced and fragrance free, so it's safe for sensitive skin.
Bonus: DivaWash is completely cruelty free and can even be used as a face and body wash!
You can see more of The DivaCup cleaning guidelines here
.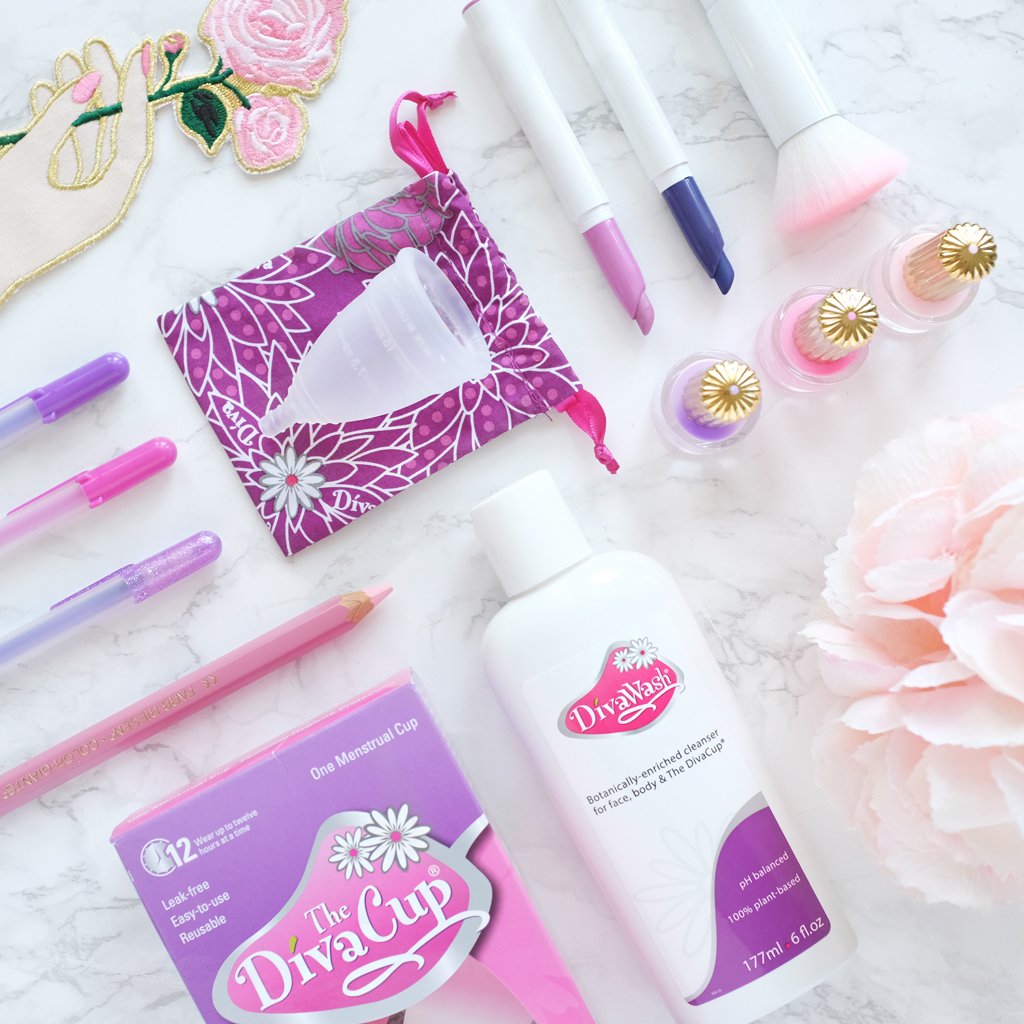 So, what's the incentive to switch? I know a lot of people are uncomfortable with the idea of a cup but the reality is that it's
so much better
! You have the great benefit of getting up to
12 hours of protection
, which was one of my biggest selling points so long ago. I much prefer to go about my day and not have to constantly worry about leaks. The other big talking point for me is that it is
chemical-, plastic-, BPA-, latex-, and dye-free
! Without all those unpleasant parts, it doesn't disturb the pH of our bodies. I have in the past suffered the discomfort that can come from tampon usage and
The DivaCup
was my game changer.
While these are my two main reasons to love
The DivaCup
, other people enjoy that these are perfect for everything from lounging to active lifestyles. They're reusable, which makes them more eco-friendly than tampons and more affordable in the long run. They only need to be replaced about once per year! What's not to love?
When we compare all of these pros to the existing cons we're already familiar with when it comes to pads and tampons, it felt very clear for me to try out
The DivaCup
I will say that it has made my periods far more manageable and hassle-free than the days of worrying about not carrying enough tampons in my bag, or maybe even being worried about the general discomfort of them. There are growing concerns about the chemicals and ingredients of things that I am putting in my body as well, whereas the silicone is a great alternative.
But how does
The DivaCup
work? We've all been trained with tampons, so this contraption can look a little confusing and maybe even intimidating.
The steps are pretty easy and with some practice, you'll be more comfortable than ever!
❖ I always use mine while I am seated. First, fold
The DivaCup
kind of like a taco. To get a visual, check out
DivaCup's User's Guide
.
❖ Relax! This part is super important to be able to insert properly.
❖ Holding it with the stem facing away from you, push the taco-ed part into the vagina until the stem is about a 1/2" into the vagina. Since everyone's body is different, this placement may be slightly different for you — don't worry, you'll get the hang of it!
❖ Hold onto the base of the cup and rotate it completely to be sure that it is open and horizontal to the tailbone. This step is essential to be sure the cup doesn't leak.
And that's it! How about removal? Well, it's even easier. Just hold onto the stem and pull gently until you're able to hold the base of the cup. Squeezing it gently, remove and empty the contents into the toilet. This part can take practice. Once you've emptied, just wash and re-insert!
Please see the full
User's Guide
for more details and illustrations! As always, it's recommended to read the User's Guide before trying
The DivaCup
If you have questions in regards to your gynecological health, please consult your healthcare provider.
There are some common questions I get asked when suggesting these to friends. The biggest one is, of course, if it is actually a good solution for leak-free protection. I have had such a great experience with
The DivaCup
over the years and I can confidently say that
yes!
they have been an excellent solution for me. Have you tried
The DivaCup
? If not, what questions do you have? And if so, what's your favorite part of making the switch?
Don't forget to pick your
DivaCup
products up at
Target
ASAP!
--------
This sponsored post is brought to you by The DivaCup and Collective Bias, Inc. Thank you for supporting brands that support Mini Penny Blog. All opinions and suggestions are my own.
If you have any additional questions about The DivaCup or DivaWash, you can contact them easily! The DivaCup's Customer Care Team is available to answer questions by email at support@divacup.com or through the following social media channels: Facebook // Instagram